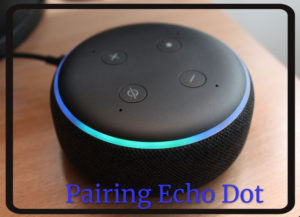 Welcome!! So you have Amazon echo dot device and are looking for steps for how to put echo dot in pairing mode. Hurray, you are in the right place!
Echo dot is a new-gen device developed by Amazon. Since the release of its first and the most primitive version in the year 2014, it has been gaining widespread popularity. It's equally advanced when compared to its counterparts like Google home and apple's Siri. Over the years it has established itself and at an extremely quick pace. All these technologies will only and only grow with the evolving technology and modernization of human civilization.
What is Echo Dot?
The echo dot is a new-gen smart device that comes in a pocket-size. You can access Alexa through amazon echo. Alexa is nothing but the virtual assistant that comes along with the echo dot device. You can plugin your echo dot at any corner of your home. You can give Amazon Alexa commands through voice commands and also set the language to any language of your preference. Over the years Amazon has updated it's Alexa and now Alexa is available in numerous European languages like French, Portuguese, Italian, Spanish, German. Since India is a dynamite sized market, Amazon doesn't want to lose out on it. So Alexa has also been configured to speak and take commands in Hindi.
Is there any other way to give commands to your Amazon Echo device?
Another extremely convenient way of operating your Amazon echo device is simply by pairing it with your mobile or laptop device. You can basically use it as a speaker by controlling it from a distance through your mobile, laptop, or any other device.
Why is usin

g Amazon Echo as a Bluetooth device more convenient?
Many times, giving commands to your Amazon echo through voice can be difficult. There may be an accent difference, hearing mistakes, speech difficulty, or some other reason. Alexa may perceive what you speak in an incorrect way, after all, it's just a virtually intelligent system. This is when Bluetooth pairing becomes useful. You can simply control your Amazon echo device through your mobile phone. It is more convenient and hassle-free to use.
Today let us get insights on how to put echo dot in pairing mode with your mobile device or external Bluetooth device.
Pairing your Amazon echo to your mobile handset or your Bluetooth device is not really a tough task, however, given underneath is the step by step procedure for linking your external Bluetooth device and amazon echo.
Turn on the power button of your Amazon echo dot speaker.

On the mobile handset, you want to use for pairing with your amazon echo dot, open the Alexa app if you have it installed. If you have not installed it, you can head to the play store or app store and install it depending on the operating system of your phone. If you don't wish to install it you can also go to the official web page of amazon Alexa.

Choose the more option in at the bottom of your screen and then choose the settings option.

Select device settings and then select the Amazon echo dot you want to pair.

Click on Bluetooth.

You can then see the list of the available Bluetooth devices, now click on the echo dot device which you're interested to pair your mobile phone with.
Buy Amazon's Bestseller echo dot by clicking here.
How to put echo dot in pairing mode with your iOS or Android-powered phone
On your Android or iOS phone open the settings and then head to the Bluetooth pairing option. Do not forget to be in close proximity to your Amazon echo dot device.

Say "Alexa pair" to your Amazon echo dot and make sure the device perceives your voice command.

Once the Amazon echo dot has processed your voice command you will be able to see "your device name" in the available devices for pairing in the Bluetooth tab on your phone

Click on the "your device name" on your phone and the pairing will be done.
Cheers! You have mastered the trick of how to put echo dot in pairing mode and so you can control your echo dot from your mobile phone via Bluetooth!
Click Here to buy latest Bluetooth Speakers.