Portable Bluetooth speakers are the simplest and most cost-effective way to fill a room, backyard, or beach blanket with sound from your phone or tablet. Bluetooth speakers come in different types, sizes, and shapes.
The best Portable Bluetooth speakers selection is not as easy to find as it appears. Knowing which model is the most valuable for your priceless pound coins is difficult. In this article, we have mentioned some of the best portable Bluetooth speakers that will offer you the best sound experience at home, at offices, parties, or in public. Once you have any Bluetooth speaker , connecting it to your laptop is an easy step.
The top Best Portable Bluetooth Speakers:
Choosing the best portable Bluetooth speakers is a difficult task. However, based on the brand, quality, and work experience, we have identified some portable Bluetooth speakers ideal for your needs. The best portable Bluetooth speakers are as follows:
Our Top Picks: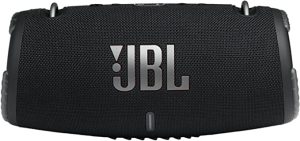 A versatile, gifted wireless speaker that is equally at home lounging or party, the JBL Xtreme 3 is a wireless speaker. Yes, it is tough, IP67 dust- and waterproof certified, and at first glance, you might assume that it is more concerned with the volume of bass it produces than with musical quality.
The Xtreme 3 lacks the Xtreme 2's speakerphone feature, but it does include USB-C charging, making it compatible with most laptop and tablet chargers. Unlike its predecessor, the Xtreme 3 is waterproof and dustproof, thanks to its IP67 rating.
The speaker's back is covered in rubber. When you peel it back, you'll see a 3.5mm input and USB Type C and Type A outputs. If you don't use it for charging, the internal battery should give you about 15 hours of playtime.
Bluetooth 5.1 allows users to connect two devices simultaneously and alternate playing music.
No matter how complex the musical arrangement, the Xtreme 3 performs confidently and never seems out of place. However, we reassure you that the JBL Xtreme 3 achieves expertly and thoughtfully at all volume levels, from the lowest to the highest.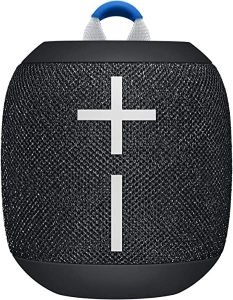 The Ultimate Wonderboom 2 has an excellent design and natural sound and is built to withstand almost any outdoor adventure.
It should withstand even the most boisterous pool parties because it is designed to float and is waterproof, sand proof, and dustproof. It takes 3 hours to charge for a 13-hour battery life.
The Wonderboom 2 has enthralling audio quality. The bass is impressive for its small size, with lots of detail and a good sense of attack. The device also has a "boost" button on the underside. When pressed, the bass frequencies are reduced so the UE can play the midrange frequencies louder. When using the device outside, the sound is easier to hear.
Despite its youth, the Wonderboom 2 remains one of the best-sounding small Bluetooth speakers for the money. It lacks a built-in microphone and an app and charges via a slightly older micro-USB port.
.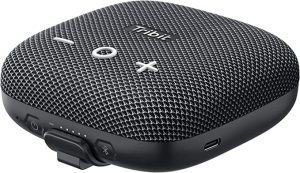 It's difficult to imagine a type of furniture, bag, or personal preference that the Tribit Storm box Micro couldn't complement. It has the dimensions of a stack of beverage coasters, an IP67 rating, a practical rubberized strap across the back, and stereo pairing for two units.
It has audibly clearer and louder sound than almost all other inexpensive Bluetooth speakers. The XSound Go fits into a laptop bag or a packed suitcase and has a battery life of 10.5 hours on a single charge. Tribit recently updated the XSound Go to include stereo pairing and USB-C charging.
If your budget is $60, the Tribit is an excellent choice. Likewise, if your backpack only has a small zip compartment at the top for a small speaker, this speaker deserves that space..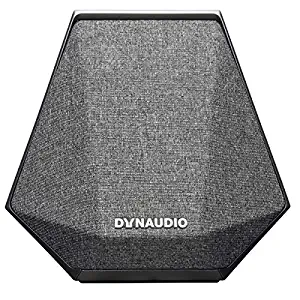 The Dynaudio Music 5 is the best speaker in Dynaudio's Music series, which began with four models. And, whether we like or dislike the angular design of the Dynaudio Music 5, we can't help but be impressed by how it sounds.
Despite its power, the Music 5 has the sonic finesse to keep things elegant. There isn't much in it. The Dynaudio Music 5 outperforms it in other areas, even though the Award-winning Naim (below) edges it out for subtlety and a slightly livelier sound. In a larger space, it carries more weight, scale, and authority. The sound is smooth, finely detailed, refined, and eminently listenable.
The presence of aptX Bluetooth, wi-fi, and AirPlay provides excellent connectivity. When you open the Dynaudio app, you'll find NoiseAdapt, a feature that helps sound cut through a noisy room and is helpful during loud parties.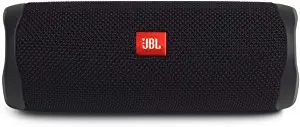 If your expense is $100, you'll struggle to find one that sounds better than the fantastic JBL Flip 5. The JBL product sounds great for the price and is tough enough to withstand a day at the pool.
The JBL Flip 5 can charge from completely flat to fully charged in just 2.5 hours, thanks to 12-hour battery life, an IPX7 waterproof rating, and a USB-C charging port. It's a pleasure to use and very portable, thanks to a wrist strap that fits comfortably over our hands.
The sound is impressively weighty and agile, with a solid bass punch, a genuine sense of openness, and a sense of texture. The speaker's sonic prowess will impress you if you don't mind the lack of an aux-in port or an integrated microphone. exceptional performer.

Buyers Guide: How to choose the best Portable Bluetooth Speakers?
There are currently a few thousand Bluetooth speaker models on the market, many of which are sold under obscure brands and occasionally only on Amazon. So naturally, it will be impossible to find the best one. We have, however, heard from the majority of the significant models.
The factors for buying the best Bluetooth speaker are:
Battery life and mobility:
Any Bluetooth speaker can be carried around, but we're interested in rechargeable battery-powered models. For our top pick, we prioritized small, portable speakers and easy to throw into a backpack, beach bag, or suitcase while still producing excellent sound.
Audio quality
Of course, having a great-sounding Bluetooth speaker is desirable. They frequently specify total harmonic distortion, with 1% being a good target. Lower is even better. Listening to it would be helpful because some speakers will not provide a specification for this. The frequency response is also essential. Some speakers sound better than others because they have better frequency responses.
Style:
Bluetooth speakers are available in a variety of styles. As a result, you can select the look that best suits your tastes.
Size:
Bluetooth speakers come in a variety of sizes. There are smaller conical or cylindrical models designed for portability and packing into luggage, as well as larger models that typically produce higher-quality audio. Again, these could be square or even cylindrical. The larger they are, the better the audio quality, and the larger ones can have a larger battery for more prolonged use.
Audio Power:
This option is not available for all Bluetooth speakers. Watts are stated and expressed. Ten watts is a lot of noise, but the speakers won't be very effective in such a small case due to their efficiency. Remember that using the device outside or in large rooms will necessitate more power.
Waterproof:
Bluetooth speakers are frequently placed in various locations, including those near water bodies, due to their portability and convenience. Because electronics and water do not mix, having a waterproof speaker is often very useful. Although some speakers can be submerged, it is more common to have water-resistant speakers. Water-resistant speakers are handy near a pool or on the beach.
Bluetooth Connectivity:
There will almost always be a Bluetooth version specification. It's sporadic to come across any equipment that still uses Bluetooth version 1, which was introduced many years ago. Although Bluetooth 2.1 is widely used in many products, Bluetooth 4.0 and even Bluetooth 5 are also widely used.
Speakerphone capability:
You have to answer a phone call while listening to music. Speakers with built-in microphones and speakerphone capabilities can be used for this. This can be beneficial if the speaker is placed near a desk, but it would most likely be quite annoying for others if it were placed near a swimming pool because everyone could hear the conversation.
Conclusion:
We have researched for an extended period to choose the best bluetooth portable speakers for you all according to their sound quality, bass, connectivity, size, and other factors. We carefully selected the best bluetooth headphones after conducting extensive research, product analysis, and thoroughly comparing them. We hope you like it and that it will help you make a wise choice.