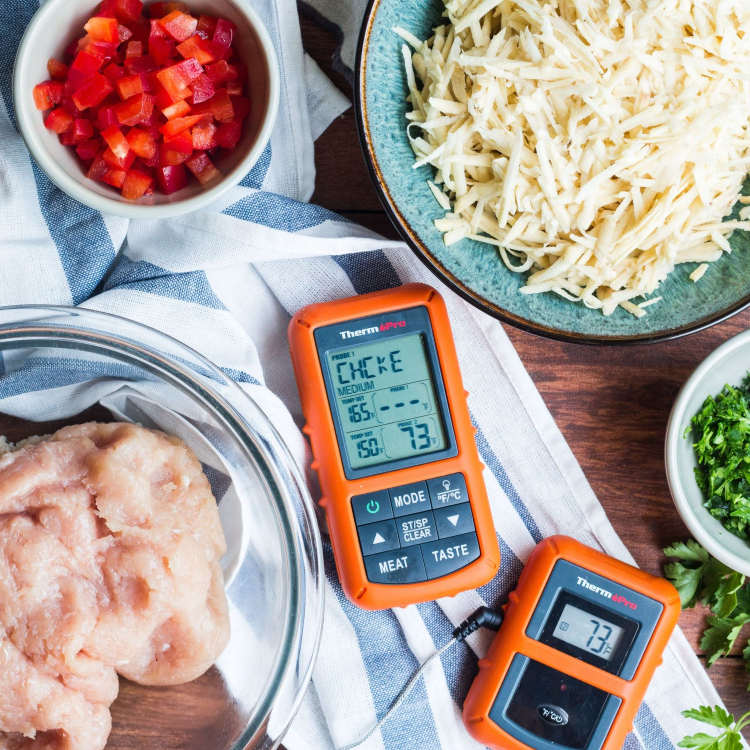 The accuracy and practicality of a Bluetooth Meat Thermometer can be beneficial to even the best grill masters. Modern gadgets like Bluetooth meat thermometers make grilling simple and ensure that every meal is delicious.
Using the best Bluetooth meat thermometer, you can check the temperature of your meat as it cooks from any location, including the pool or the kitchen, while you're preparing side dishes. With the best wireless meat thermometers, there's no need to rush back and forth from the kitchen to the grill or barbecue by moonlight. Instead, with these wireless thermometers, you can move around, work on other kitchen tasks, and spend time with friends or family while your meat is cooked to the ideal temperature. This article has mentioned some of the best Bluetooth meat thermometers that suit your needs.
What is a Bluetooth Meat Thermometer?
A Bluetooth meat thermometer can be used to assess the temperature of the meat. It is a wireless instrument with several temperature settings for reading meat. This gadget will be helpful for both professional and novice cooks. A Bluetooth meat thermometer makes it easy to check the temperature of your dinner. At the same time, it cooks because it only takes a minute to set up and regularly offers accurate readings.
When food temperature gradually increases, the Bluetooth meat thermometer application keeps track of it from a distance and sends an alarm when it is done. Up to 33 feet away, the Bluetooth 4.0 or 5.0 wireless meat thermometer can be connected.
How do they perform?
A Bluetooth thermometer comprises three parts: the probe, the cable, and the transmitter.
The probe either enters into the meat or is attached to the grill. The transmitter receives the temperature data through the cable and transmits it to a receiver, often your cell phone, which receives the signal. This enables you to check the meat's temperature from any location and even set alarms to sound when your dish reaches the ideal temperature.
Our Top Picks: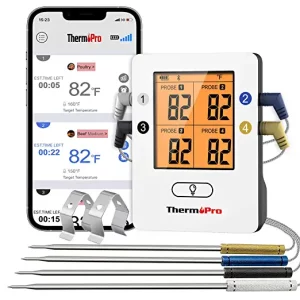 The ThermoPro TP25 is a fantastic tool for any grill master, with an astounding 500-foot wireless range and up to four meat probes for grilling various types of meat simultaneously. Due to the color-coded probes, the app effectively organizes everything while allowing you to simultaneously select and monitor many meat temperatures.
The app will let you know even when you are outside of range. The app can calculate cook times based on the meats you choose and notify you when the internal temperature exceeds predetermined ranges.
It also employs a sophisticated estimating algorithm to estimate how long your meat has to cook to assist you in meal planning and time management. To ensure you're prepared to remove the meat from the heat at the ideal moment, you may set a "pre-alarm" to sound 5, 10, or 15 degrees before your food is done.



With over 25,000 evaluations and 4.6 stars on Amazon, the Meater Plus meat thermometer is a top seller. That's probably because of its 167-foot wifi range and the app, which takes all the guesswork out of grilling by guiding you through grilling the ideal piece of meat.
The app will notify you when to remove the meat from the heat once you insert the probe, start it up, choose the piece of meat, and decide how you want it cooked (medium rare, well-done, etc.).
Meater Plus developed the Guided Cook System because cooking can be challenging for certain people. Additionally, you can configure unique warnings according to the cooking time and temperature.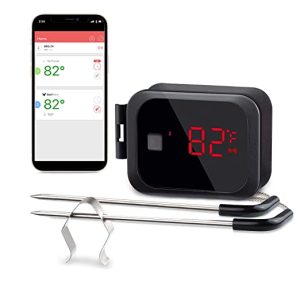 The inexpensive Inkbird IBT-2x Bluetooth Meat Thermometer has two probes to simultaneously cook two different types of meat and measure the meat's interior temperature and the grill's ambient temperature. The app has eight meat settings for quick cooking, or you can set alarms and adjust grilling timings. In addition, the device will beep and signal to your phone when your food is heated.
32-572 degrees Fahrenheit is the range for short-term measurements, while 32-482 degrees Fahrenheit is the range for continuous monitoring. There are two probes on this thermometer. You may check the grill's temperature while using one probe for the protein.
The range of this Bluetooth grill thermometer is limited, as was already mentioned. The stainless steel cable's inability to be waterproof is another drawback; as a result, you must make sure it is scorched before using it to avoid affecting your temperature reading.




Only our top pick's 300-foot wireless range can rival the Grilleye Bluetooth thermometer. Although it only comes with two probes, it has connectors to attach up to six, so you may worry-free grill for the entire gathering.
The gadget has a convenient adjustable stand that keeps it upright and convenient for reading. And even at night, the LED display makes it simple to see the temperature. Although the app includes several presets for various cuts of meat, you can also set your unique temperatures.
The app features built-in presets for grilled proteins like beef, chicken, and fish, in addition to the other Bluetooth grilling thermometers on this list. Your doneness levels are also selectable. This application will alert you when it is time to remove the meat from the grill after it has finished cooking.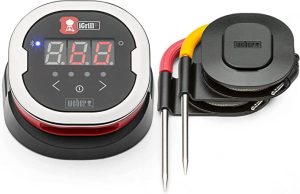 There are four probe ports on the Weber iGrill 2 Bluetooth thermometer, one for the grill's ambient temperature and the other three for meat. The range of the thermometer, which is usual for meat thermometers, is -22 °F (-30 °C) to 572 °F (300 °C).
Only two probes are included in this kit, and additional probes must be purchased separately if you want to use the kit's maximum four probe capability. However, instead of providing four probes with each unit, this lowers the cost for those who only want 2.
The iGrill has a polished steel face, a red metal case, and a black magnetic base. It resembles an oversized timepiece. Two AA batteries are also supplied.
It contains three digital number readouts, which resemble a miniature scoreboard, LED indicators for Bluetooth connectivity, and indicators for the particular probe it is now displaying.
Buyers Guide: How to choose the best Bluetooth meat thermometer?
1.    Accuracy & Range:
The most reliable thermometers can typically guarantee accuracy to within 2 degrees Fahrenheit, so look for those that make this claim. You can guarantee desired doneness and food safety by doing this.
2.   Range of temperatures:
Consider the foods you prepare the most frequently, and then determine the temperature range the thermometer can record and tolerate that is most convenient for you. More oversized items that require longer cooking times benefit from using thermometers with a wide temperature range. A smaller range, however, might offer greater accuracy or a quicker response time. Check the thermometer's upper-temperature limit in the usage and care manual to be sure it can resist direct cooking and flare-ups.
3.    Probe size:
To effectively assess the degree of doneness, you need a probe that is both long enough to reach the thickest section of the food and thin enough not to harm the flesh. A shorter probe is acceptable for small or thin meals like fish or chicken breast, but a more extended probe, about five inches long, is preferable for larger dishes like a large steak or a hog roast.
4.    Interaction:
Whether your thermometer is a dial or a connected app, you want the interface to be simple. You want readability that is simple to perform at a glance, so you can choose whether to modify the heat or halt the cooking process. Check all the parts before buying them.
5.    Battery life:
Although some meat thermometers use rechargeable batteries, others need to have their batteries changed frequently. Look at the manufacturer's statements to see how long you may use it for each session and how long the battery will last.
Conclusion:
A smart wireless Bluetooth food thermometer can assist you in serving perfectly cooked dishes with the optimal level of crispness and tenderness with no effort. Consider your restaurant's or kitchen's needs before selecting the best Bluetooth meat thermometer or Bluetooth barbecue thermometer.